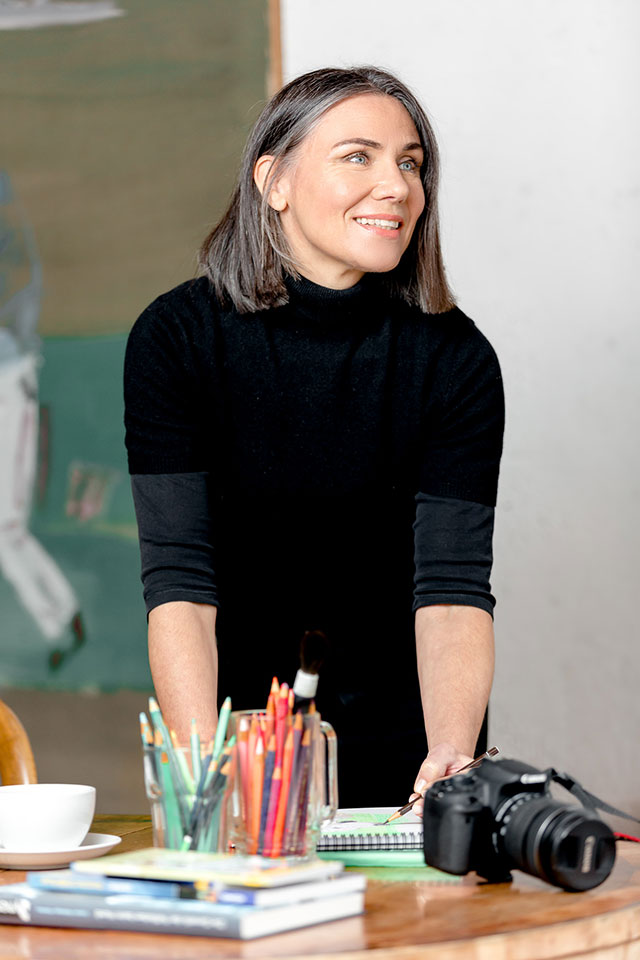 I am very happy to pass on my knowledge about color genetics to interested breeders, veterinarians (both practical and official), dog trainers and all other interested people – in German, if necessary also in English. Particularly important to me is always the education about health-related aspects of color breeding.
Whether lectures at larger congresses or symposia or small workshops for breeders of specific breeds – even after years, the exchange with colleagues and interested dog lovers is still great fun for me – and I hardly ever return from a presence event without having heard something new myself or having taken a few photos of dogs of various breeds and colors for my archive. I find it particularly exciting to put together lectures for certain breeds and to work out and illustrate the topic individually. Here I benefit from my extensive archive, which has grown and been maintained over decades.
In 2019, I held an online lecture for the first time and was amazed at how well the exchange with the audience worked. In 2020, many lectures planned as face-to-face events had to switch to online mode at short notice – this also worked great and offers a possibility in the "post-Corona time", too, e.g. if the interested parties for an event live very far apart or an online event is suitable for other reasons.
For inquiries about lectures, seminars and workshops – whether in the context of face-to-face or online events – please contact me via labogen@laboklin.com.
Overview of previous lectures and workshops
| Jahr | Vorträge Farbgenetik |
| --- | --- |
| 2020 | 01. Oktober: Farbgenetik beim Gos d´Atura Online-Seminar |
| | 25. September: Farbgenetik-Seminar, Laboklin Inline-Züchterseminar (Bad Kissingen) |
| | 25. September: Farbgenetik Grundlagen, Laboklin Online-Züchterseminar (Bad Kissingen) |
| | 1. August: Erbkrankheiten beim Pudel (DPK, Alsfeld) |
| | 1. August: Die Farbgenetik beim Pudel (DPK, Alsfeld) |
| | 08. Juli: Fellfarben - Was der Hundetrainer wissen sollte (Webinar, KynoLogisch) |
| | 27. Juni: Farbgenetik beim Gos d´Atura (PPC, Dorsten) |
| | 17. April: Farbgenetik beim Lagotto Romagnolo (Lagotto Romagnolo Wasserhunde Deutschland, Alsfeld) |
| | 05. April: Canine color genetics (Webinar), Companion Moskau (für Laboklin) |
| | 04. April: Genetics in dog breeding (Webinar), Companion Moskau (für Laboklin) |
| | 13. März: Bunte Fellfarbe: Wann wird die Fellfarbe zur Qual? Niedersächsisches Tierschutzsymposium, LAVES Oldenburg |
| 2019 | 29. Juli: Farbgenetik-Seminar Teil 2 und Teil 3, Laboklin, Bad Bocklet |
| | 28. Juli: Farbgenetik-Seminar Teil 1, Laboklin, Bad Bocklet |
| | 28. Juli: Fellfarben und Qualzucht, Laboklin Züchterseminar, Bad Bocklet |
| | 14. Juli: Farbgenetik beim Eurasier (EurasierZucht-Vereinigung, Oer-Erkenschwick) |
| | 28. Juni: Wenn die Fellfarbe krank macht: Wann ist es Qualzucht und wann nicht (Landestierärztekammer BW, Echterdingen) |
| | 19. Mai: Farbgenetik beim Pudel (Schweizer Pudelclub, Aarau, Schweiz) |
| | 14. April: Farbgenetik beim Deutschen Spitz (Krefeld) |
| | 06. März: Fellfarben - Was der Hundetrainer wissen sollte (Webinar, KynoLogisch) |
| 2018 | 29. September: Farbgenetik-Workshop Teil 1 und Teil 2 (Laboklin, Bad Bocklet) |
| | 04. August: Farbgenetik beim Slowakischen Rauhbart (Bochum) |
| | 28. Juli: Farbgenetik-Seminar beim Teckel (DTK, Hövelhof) |
| | 16. Juni: Farbgenetik-Seminar (Club der Kleinhunde Ebern, Bad Salzhausen) |
| | 10. Juni: Farbgenetik bei den tibetischen Rassen (Tibet Terrier Klub Schweiz, Zufikon, CH) |
| | 19. Mai: Fellfarben bei Nordischen Rassen (DCNH, Ehingen) |
| | 22. April: Farbgenetik beim Puli (Deutscher Puli-Klub, Oer Erkenschwick) |
| | 21. April: Farbgenetik-Seminar (Verband der Kleinhundezüchter, Warendorf) |
| | 14. April: Farbgenetik beim Spitz (Verein für Spitze und Nordische Hunde, Heltersberg) |
| | 07. Januar: Farbgenetik bei der Französischen Bulldogge (SKFB Schweiz, Aarau, CH) |
| 2017 | 18. November: Seminar Farbgenetik beim Lagotto Romagnolo (Lagotto Romagnolo Wasserhunde Deutschland, Karlsruhe) |
| | 04. November: Seminar Farbgenetik beim Border Collie (CfbH, Landesgruppe Rheinland, Bad Honnef) |
| | 30. September: Farbgenetik-Workshop (Züchterseminar Laboklin, Bad Bocklet) |
| | 17. September: Farbgenetik bei den tibetischen Rassen (KTR, Schauenburg) |
| | 26. März: Farbgenetik beim Pinscher und Schnauzer (PSK LG Baden und Württemberg, Stuttgart) |
| | 12. März: Farbgenetik beim Deutschen Jagdterrier (Deutscher Jagdterrier Klub, Fulda) |
| | 04. März: Farbgenetik beim Lagotto Romagnolo (Lagotto-Club Schweiz, Schaffhausen, CH) |
| 2016 | 24. September: Farbgenetik-Workshop (Züchterseminar Laboklin, Bad Bocklet) |
| | 2. Juli: Fellfarb-Genetik beim Sheltie (Club für Britische Hütehunde, Alsfeld) |
| | 12. Juni: Fellfarb-Genetik beim Barbet (Schweizer Barbet-Club, Aarau, CH) |
| | 06. März: Fellfarb-Genetik beim Pinscher und Schnauzer (PSK, Kirchheim) |
| 2015 | 26. September: Fellfarb-Genetik beim Hund (Züchterseminar Laboklin, Bad Bocklet) |
| | 11. Juli: Die Fellfarbe beim Welsh Corgi (Club für Britische Hütehunde, Alsfeld) |
| | 21. Juni: Die Fellfarbe bei den Britischen Hütehunden (Club für Britische Hütehunde, Kassel) |
| | 22. März: Die Fellfarbe beim Pudel (Verband der Pudelfreunde, Alsfeld) |
| 2014 | 05. Oktober: Die Fellfarbe beim Border Collie (Border Collie Züchtertagung, Club für Britische Hütehunde, Alsfeld) |
| | 22. März: Die Fellfarbe beim Briard (Züchtertagung Briard-Club Deutschland, Neu-Isenburg) |
| 2013 | 12./13.Juni: Die Fellfarbe beim Hund – Genetik und klinische Relevanz (Stuttgarter Tierärztliche Gesellschaft, CVUA Fellbach und Aulendorf) |
| 2012 | 21. Oktober: Fellfarben beim Hund – Trends in der Genetik (Experten erklären, Düsseldorf, Congress Center) |